Joni


Jamie


Leigh


Mom


Lucas


Hayden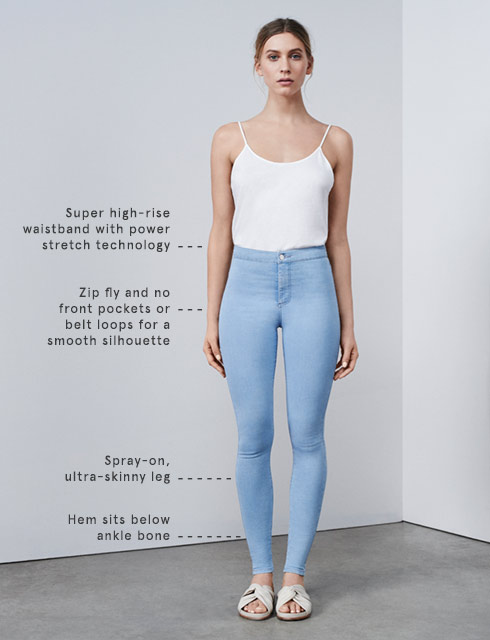 The skin-tight Joni is your ultimate going out jean. Super high-rise with a disco silhouette, these jeans were made for the fashion-confident.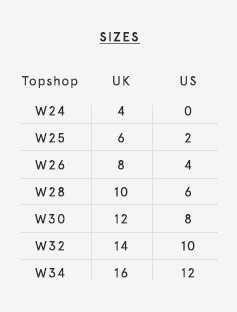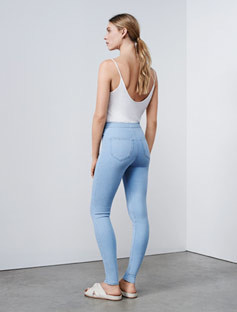 How to Style it
Balance the skin-tight silhouette of the Joni with a boxy, loose-fit Breton tee for day.
Add a pair western-style ankle boots for a casual, west coast vibe.
-->
SHOP TOPSHOP JEANS THROUGH ZALORA TOPSHOP DENIM GUIDE
Topshop is a well-known brand in the fashion industry and never fails to provide their customers with the latest trends. Becoming one of the top recognizable fashion brands for women, Topshop jeans collection will make any women fall in love with them. Topshop brand offers a wide range of jeans designs for women to choose from depending on their fashion taste. Women can find designs of Topshop flare jeans, skinny, high waist jeans and more to fit their personal style. Denim jeans are a versatile piece for women to add into their closet at home due its timeless element. Topshop denim collection is definitely a must-have for women to own.
For the ladies who are interested in wearing the Topshop jeans collection and have no idea which fits them best, ZALORA Topshop online denim guide will ease your selection. There are five types of Topshop denim collection for women to choose from including Jamie flare, Mom, Jamie, Leigh and Toni. Each collection of Topshop for women offers different jeans cutting and designs. Women can simply have their pick and select the jeans which they find perfect for their figure. Choosing the right jeans is important to make sure you have a balanced nice figure.
BUY TOPSHOP ONLINE MALAYSIA JEANS TODAY!
Figure out how you want to look in those jeans and have a splendid time browsing through the Topshop online Malaysia collection of jeans for women. Women always have the hard time in picking a pair which enhances their curves and Topshop denim guide for women offered here on ZALORA definitely helps. So wait no more and start scrolling through all the collection for the right pair of denim jeans. Buy Topshop online Malaysia denim for women and have it delivered right to your doorstep. Hurry up and have an amazing online shopping experience with ZALORA! Have fun shopping with us now!