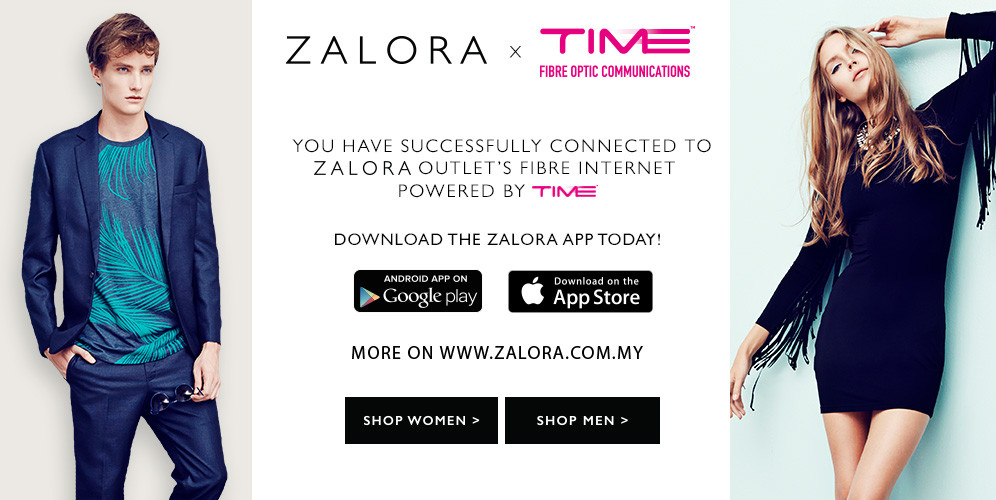 Wireless Hotspot Terms and Conditions and Disclaimer
You are about to access the Internet through a wireless hotspot operated by TT DOTCOM SDN BHD ("TIME"). TIME provides free wireless Internet access and related services and features (the "Service") limited to the actual location of ZALORA store G10 & G11 Mitsui Outlet Park ("ZALORA Outlet). The use of the Service shall be governed by these Wireless Hotspot Terms and Conditions contained herein ("the Agreement" or "Terms and Conditions"). You may only use the Service if you expressly agree to be bound by the terms and conditions of this Agreement each time you access the Service. Please read this Agreement carefully before accessing the Service. If you agree with and accept the Agreement, click the "Agree and Continue" button. By accepting the Agreement and accessing the Service, you acknowledge that you are of legal age, you have read and understood, and agree to be bound by this Agreement. In all events, by using the Service, you agree to be bound by these Terms and Conditions. If you do not agree to the terms of this Agreement, please do not use the Service.
1. Service Access and Availability
The Service is a free service provided by TIME, exclusively for guests and costumers of JADE ESERVICES MALAYSIA SDN BHD (Company Registration No. 973005-A) trading as www.zalora.com.my ("ZALORA"). If you are not a guest or costumer of ZALORA, you may not use the Service. Your access to the Service is completely at the discretion of ZALORA and TIME, and your access to the Service may be blocked, suspended, or terminated at any time for any reason including, but not limited to, any violation of this Agreement, actions that may lead to liability for ZALORA, disruption of access to other users or networks, and violation of applicable laws or regulations. You must accept this Agreement each time you use the Service and it is your responsibility to review this Agreement for any changes prior to each use. As indicated below, ZALORA reserves the right to change the terms and conditions of this Agreement at any time, without prior notice to you. The Service is only available at designated locations; actual service coverage, speeds and quality may vary. The Service is subject to unavailability, including emergencies, third party service failures, transmission, equipment or network problems or limitations, interference, lack of signal strength, and maintenance and repair, and may be interrupted, refused, limited or curtailed.
2. Use of Service
You agree not to use the Service for any purpose that is unlawful or prohibited by this Agreement. You may not use the Service in any manner that could damage ZALORA's property or others' property, or interferes with, harms or disrupts ZALORA's system or other operators' systems or other users. You will comply with all laws while using the Service and you will not transmit any communication or data that would violate any laws, court order, or regulation, or would likely be offensive to the recipient. You agree to cooperate with ZALORA in any fraud investigation and to use any fraud prevention measures we prescribe. You agree not to use the Service for any fraudulent, unlawful, harassing or abusive purpose, or so as to damage or cause risk to ZALORA reputation, members, facilities, or to any other person. Improper and prohibited use includes, but not limited to:
- Using the Service to violate any law, statute, ordinance or regulation, including without limitation the laws and regulations governing export control, unfair competition, false advertising, consumer protection, issuance or sale of securities, child pornography, obscenity, trade in firearms, spamming, privacy, data transfer, and telecommunications;
- Using the Service in a manner which presents a material security risk or will interfere materially with the continued operation of the Service;
- Using the Service in any manner that infringes another's copyrights, patents, trademarks, service marks, trade names, trade secrets or other intellectual property rights or rights of publicity, including failing to obtain all required permissions to receive, upload, download, display, distribute, or execute programs or perform other works or derivative works protected by intellectual property laws or removing or altering applicable copyright, trademark, or patent notices;
- Using the Service in a tortious manner, including without limitation engaging in libel, defamation, harassment, misappropriation of trade secrets, intentional misrepresentation or fraud, or publication of private information without the permission of the person(s) involved;
- Introducing viruses, trojan horses, trap doors, back doors, easter eggs, worms, time bombs, packet bombs, cancelbots or any other computer programming routines that are intended to damage, detrimentally interfere with, surreptitiously intercept or expropriate any system, data or personal information;
- Intentionally omitting, deleting, forging or misrepresenting transmission information, including headers, return addressing information and IP addresses, in violation of applicable law;
- Using the Service to gain illegal or unauthorized access to other computers or networks with any engine, software, tool, agent, device or mechanism;
- Attempting to intercept, collect or store data about third parties without their knowledge or consent;
- Sending unsolicited messages, including without limitation, promotions or advertisements for products or services, "pyramid schemes", "spam", "chain mail" or "junk mail"; and/or
- Interfering or attempting to interfere with the access of any user, host or network.
ZALORA and TIME reserve the right to monitor and log the use of the Service to ensure compliance with this Agreement or any applicable law. ZALORA and TIME reserve the right to monitor transmissions and to collect and use personally identifiable information to assist in provisioning of the Service and to monitor network health and performance and otherwise solve problems associated with the Service. We will make available logs and personal information to law enforcement agencies if required. However, we will not purposely forward any of the collected data to third parties without your prior consent and shall only use your personal data in accordance with the provisions of the Personal Data Protection Act 2010.
We reserve the right to terminate the Service immediately and without advance notice if we, in our sole discretion, become aware of improper or harmful activity, or if ZALORA believes that you have violated the above restrictions. If we suspect violations of any of the above, we will investigate and, where appropriate, we may (i) institute legal action, (ii) deactivate the Service or your access to the Service without prior notice to you, and/or (iii) cooperate with law enforcement authorities in bringing legal proceedings against violators.
3. Limitation of Liability
ZALORA and TIME shall not be liable, and you hereby waive all claims against ZALORA and TIME, for any damages arising from use of the Service including without limitation, punitive, exemplary, incidental, special or consequential damages, loss of privacy or security damages; personal injury or property damages; or any damages whatsoever resulting from interruption or failure of service; lost profits, loss of business, loss of data, loss due to unauthorized access of due to viruses or other harmful components, cost of replacement products and services, the inability to use the Service, the content of any data transmission, communication or message transmitted to or received by your unit, access to the world wide web, the interception of loss of any data or transmission, or losses resulting from any goods or services purchased or messages or data received or transaction entered into through the Service. If you are dissatisfied with the Service, or with this Agreement, your sole and exclusive remedy is to discontinue using the Service. By using the Service, you acknowledge that your use of the Service is at your sole risk.
4. Content Disclaimer
ZALORA and TIME do not control, nor is ZALORA or TIME responsible or liable for, data, content, services, or products (including software) that you access, download, receive or buy via the Service. ZALORA or TIME may block information, transmissions or access to certain information, services, products or domains to protect ZALORA, TIME, ZALORA and TIME's networks, the public or our users. Therefore, messages and other content may be deleted before delivery. The Internet contains unedited materials, some of which may be offensive to you. ZALORA or TIME is not a publisher of third-party content accessed through the Service, and is not responsible for the content, accuracy, timeliness or delivery of any opinions, advice, statements, messages, services, graphics, data or any other information provided to or by third parties as accessible through the Service. You are responsible for paying all fees and charges of third party vendors whose sites, products or services you access, buy or use via the Service. If you choose to use the Service to access websites, services or content, or purchase products from third parties, your personal information may be available to the third-party provider. How third parties handle and use your personal information related to their sites and services is governed by their privacy and other policies (if any) and not ZALORA or TIME. ZALORA and TIME have no responsibility for third party provider policies, or their compliance with them. You are liable for any and all liability that may arise out of the content transmitted by or to you using the Service. You shall assure that your use of the Service and content will at all times comply with all applicable laws, regulations and written and electronic instructions for use. ZALORA and TIME reserve the right to terminate or suspend affected Service if ZALORA or TIME determines that such use does not conform with the requirements set forth in this Agreement, or interferes with ZALORA and/or TIME ability to provide Service to you or others, or receives notice from anyone that your use may violate any laws or regulations. ZALORA and/or TIME actions or inaction under this Section shall not constitute review or approval of your use.
5. Warranty Disclaimer
The Service is provided "as is" without warranties of any kind, either express or implied. You assume all responsibility and risk for use of the Service. Neither ZALORA and/or TIME nor its employees or affiliates warrant that the information, products, processes and/or services available through the Service will be uninterrupted, always available, accurate, complete, useful, functional or error free.
6. Eligibility
You must be at least 18 years old to be eligible to use the Service. However, if you have not reach 18 years old, you may use the Service if -- and only if -- you have your parents' or guardians' prior permission. No one under age 10 may use the Service under any circumstances. By accepting this Agreement, you are representing that you are at least 18 years old or that you are at least 10 years old and have your parents' or guardians' permission to access the Service.
7. Indemnification
You agree to indemnify, defend and hold harmless ZALORA and TIME, its employees and affiliates from and against any and all claims, liabilities, penalties, settlements, judgments, costs, fees (including reasonable attorneys' fees) arising from (i) any content that you or anyone using your account may submit, post or transmit; (ii) your use of the Service; (iii) your violation of this Agreement; and (iv) any violation or failure by you to comply with all applicable laws and regulations in connection with the use of the Service.
8. Privacy and Security.
Wireless systems use radio channels to transmit voice and data communications over a complex network. Privacy cannot be guaranteed, and we are not liable to you or any other party for any lack of privacy you experience while using the Service. If you use the Service in a public location, you understand that others may be able to see and observe your use of the Service. We have the right, but not the obligation to monitor, intercept and disclose any transmissions over or using our facilities, and to provide customer billing, account, or use records, and related information under certain circumstances (for example, in response to lawful process, orders, subpoenas, or warrants, or other information, in good faith reliance on legal process, if required by law or to protect our rights, business, network, customers or property). You acknowledge that the Service is not inherently secure and that wireless communications can be intercepted by equipment and software designed for that purpose. Notwithstanding efforts to enhance security with respect to the Service, we cannot guarantee the effectiveness of these efforts and will not be liable to you or any other party for any lack of security that may result from your use of the Service or your Device. You acknowledge that you are responsible for taking such precautions and providing such security measures best suited for your situation and intended use of the Service. We strongly encourage and support certain customer-provided security solutions, such as virtual private networks, encryption and personal firewalls, but do not provide these to our users and are not responsible for their effectiveness.
9. This Agreement is governed by the laws of Malaysia. You hereby consent to the exclusive jurisdiction and venue of the courts in Malaysia in all disputes arising out of or relating to the use of the Service.