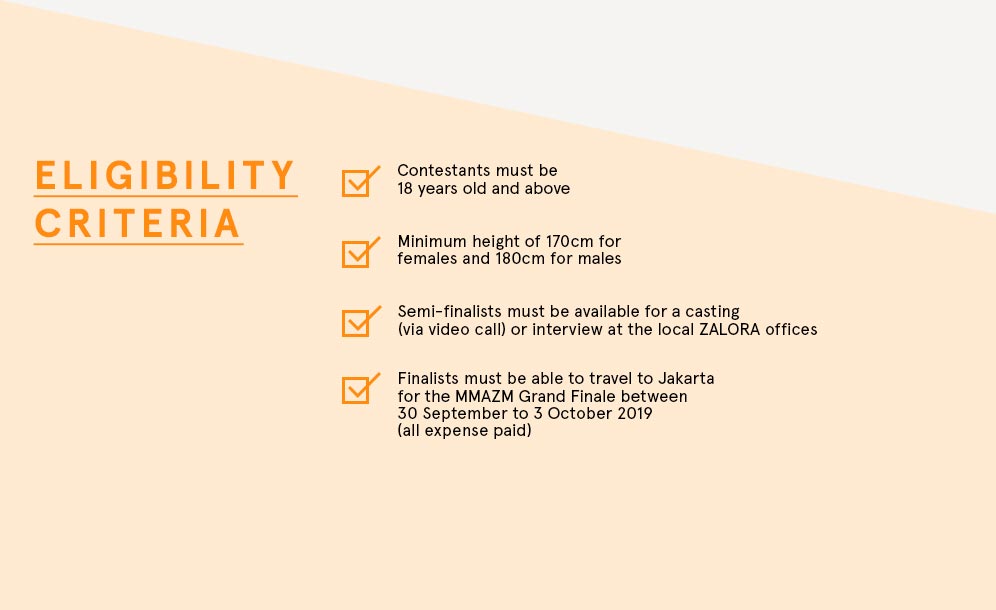 JOIN OUR ANNUAL MAKE ME A ZALORA MODEL COMPETITION
Ever wondered what it would be like to be Asia's next top model? Travelling around the globe, wearing nice designer clothes, walking prestigious runways; you know, just living the supermodel life. Well, that lifestyle could be yours because our annual Make Me A ZALORA Model competition is back for its fourth cycle this year! The competition first started in 2016 and carried on until today where we saw lots of upcoming models, both male and female, trying their luck to become the face of ZALORA internationally.
The people behind Make Me A ZALORA Model, or MMAZM for short, is out to seek the next supermodel to join the list of winners who have seen success in the modelling industry, and that could just be you! Simply post your best selfies or OOTDs on Instagram with the hashtag #MMAZMCycle4 and tag @ZALORAMY and let us handle the rest. So, whip out your phones, style yourself up, give us your best pose, and start holding your own mini photoshoot for us and the rest of Asia to see. Who knows, you might be that ZALORA model we are looking for all this while.
SHOW US WHAT YOU GOT TO BE OUR NEXT ZALORA MODEL
For you people out there who are just starting out in the modelling world, do not trouble yourself on finding complicated ways on how to become a model. The opportunity is right in front of you and that is the MMAZM Cycle 4 competition. If you are lucky enough to be our 2019 winner, you will not only be the face of ZALORA, you will also receive a modelling contract with Upfront Models Singapore and a year's supply of ZALORA clothes. How cool is that? So, what are you waiting for? Come and participate our exclusive Make Me A ZALORA Model competition starting 2 – 30 August!