The end for this year is coming around the corner and it is the time for reflecting on how far you have come. However before saying goodbye to a fantastic year, it cannot be denied that we have seen spectacular trends past by.
Discover what are your favourite colours in 2015 and what are the best-selling beauty products. Take notice of the fashion trends that have gained attention from fashion lovers around the world. Hurry up and get the industry insights of 2015 right here!
Top Colours of 2015
Top Purchases of 2015
1. Off White
2. Beige
3. Gold
4. Silver
5. Light Grey

6. Peach
7. Pink
8. Rose
9. Burgundy
10. Turquoise
1. Basic Slim Fit Long Sleeve Shirt
2. Majestic Love Instant Shawl
3. Fashion Backpack
4. Classic Backpack
5. Rose Ultra Hydrate & Brightening Mask
6. Muslimah Blouse
7. Printed T-Shirt
8. Men's Faux Leather Strap Watch
9. Smart Casual Shoes
10. Ladies Kurung Modern
If you are an avid fashion lover, you will probably already know the hottest fashion items for this year. But do you have any idea on what styles that are ranking up high in 2015? Be it fashion tops, stylish shoes, trendy accessories or beauty products, 2015 has been an amazing year in the fashion industry. Take a look at the fashion and beauty items that made the list.
Tops
1. T-Shirts
2. Shirts
3. Blouses & Tunics
4. Polo Shirts
5. Suits
READ ALSO >
Bottoms
1. Skirts
2. Long Pants
3. Jeans
4. Shorts
5. Leggings & Tights
READ ALSO >
Shoes
1. Heels & Wedges
2. Ballerina & Flats
3. Sandals & Flip Flops
4. Sneakers
5. Loafers, Moccasins & Boat Shoes
READ ALSO >
Accessories
1. Watches
2. Jewellery
3. Belts & Buckles
4. Hats & Caps
5. Eyewear
READ ALSO >
Beauty Products
1. Lipstick
2. Eyeliner
3. Foundation
4. Primer
5. Mascara
READ ALSO >
Bags
1. Fashion Bags
2. Backpacks
3. Wallets & Purses
4. Other bags
5. Sport Bags
READ ALSO >
Top Colours By Categories
You will realize that there is a certain pattern of colours this year but are you one of the many individuals who are rocking it all around town? Check out the breakdown of the colours which are popular by category. Find out whether your favourite tone and clothing make the cut. Also you can get insights on how you can style the top coloured pieces to suit your own personal style. We got you covered!
Tops
1. Peach
2. Pastel Blue
3. Navy Blue
4. Off White
5. Light Blue
READ ALSO >
Bottoms
1. Navy Blue
2. Off White
3. Light Blue
4. Dark Grey
5. Rose Gold
READ ALSO >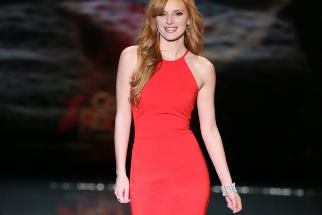 One Piece
1. Melange Grey
2. Forest Green
3. Natural White
4. Off White
5. Navy Blue
READ ALSO >
Shoes
1. Dark Brown
2. Camel
3. Coffee
4. Light Grey
5. Apricot
READ ALSO >
Bags
1. Navy Blue
2. Medium Brown
3. Light Grey
4. Dark Blue
5. Coffee
READ ALSO >
Lipsticks
1. Nude
2. The Red
3. Neutrals
4. Dusty Rose
5. Matte Bright Pinky Red
READ ALSO >
Since you have seen the popular trends for 2015, you must be craving to know the latest trend forecast for next year. An annual fashion review is not complete unless you have anticipate the new styles in 2016.
Discover from the fashion runway to streetstyle look ideas, you will have a great time flaunting the new trends with various selection of fabric, prints and hues. Figure out the creative ways to style them to suit your own personal taste and check out what we anticipate for next year's top styles. So hurry up and make a fashion statement with various new looks all over again!
READ MORE >