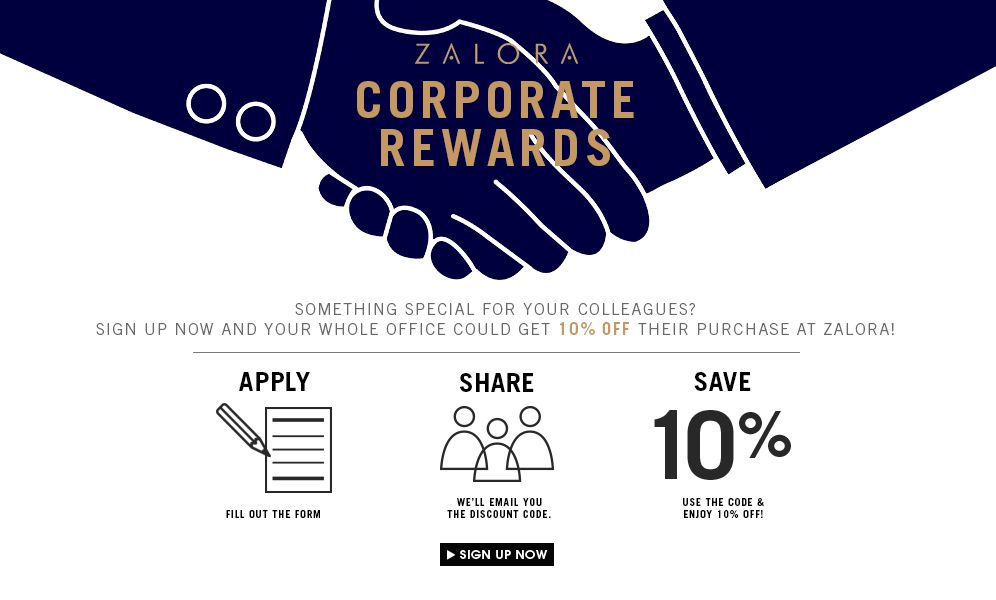 SIGN UP FOR ZALORA CORPORATE REWARDS PROGRAM
Do you just love shopping for new clothes, shoes and accessories? It will be a huge frustration to spend your weekends out in crowded malls and finding a parking space. Why go through all that trouble when you can just shop online for your desired fashion item? If you do not have the time to squeeze from your hectic schedule for some shopping, no worries as you could now shop online with ZALORA. ZALORA is the leading online shopping website which offers apparel, shoes and accessories from local and international brands. Both men and women could indulge in the fun browsing through the extensive designs from head-to-toe without even stepping out of the house or office.
ZALORA is offering amazing corporate rewards for companies who would like to participate in the best online shopping experience! Interested to join in the fun shopping at ZALORA online? With few simple and easy steps, you could sign up your whole company to receive the corporate reward offered. Sign up by filling out the form available at our website and we will email you the reward card discount code. Share the 10 percent discount voucher code with your colleagues and enjoy your online shopping experience with ZALORA. You could also save up 10% buying anything special for your boss or colleague as a birthday gift by selecting any item from our website.
PARTICIPATE TO ENJOY CORPORATE REWARDS ONLINE MALAYSIA
Hesitate no more and sign up with us now to enjoy special shopping corporate rewards program. Browse through the website and purchase a dress, a top, shoes or even accessories for you or for your colleagues. Share the excitement and save 10 percent of your money for any items you have selected. ZALORA provides their customers with various payment methods and a secure transaction process. Customers do not have to wait long for their item as it will be delivered straight to your home or office within only three days' time! So hurry up and sign up now to enjoy rewards for employees at ZALORA!