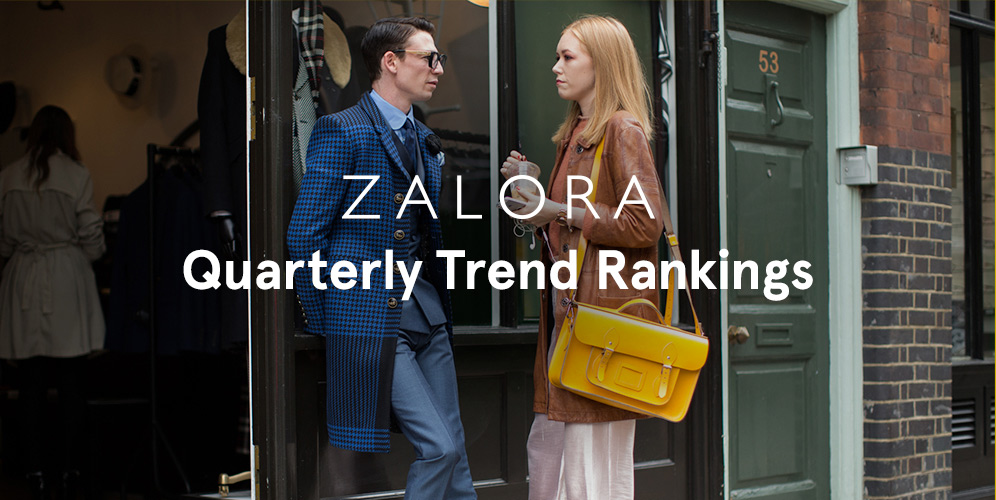 We're easing on into the new year with just as many fashion goals as the previous year. With new trends popping up from global street style trends to your personal favourite pieces, get to know what's been charting the top this quarter and you'll be well on your way to style stardom.
Our quarter rankings will take you from your favourite picks in fashion for both men and women to top beauty bestsellers for all you beauty junkies out there. This is the only guide you'll need for an inside scoop of your favourite trends this quarter.
2017 Quarter 03

The women's fashion are seen swaying for a more relaxed appeal this quarter. From printed metallic basic tees to low kitten heels, it is more about comfort with style.
READ MORE ON THREAD >
2017 Quarter 02

Women are loving the sexy ensembles that exudes sophistication and classic elegance. Going for V-necks, satin heels to laces, hitting the streets with confidence and never worry looking out of style.
READ MORE ON THREAD >
2017 Quarter 01

Fashion
Comfort wear is the in thing and all your love for the minimal turns basics and statement pieces into best worn essentials with trends that are made to last. Muslimah's are also making a presence in fashion with both versatility and style in the charts.
Short Sleeve T-Shirt
Muslimah Blouse
Wrap Pencil Skirt
Gizeh Sandals
Lace Up Sneakers
READ MORE ON THREAD >
Beauty
Au naturale is everyone's go to this quarter. Prepping skin with amazing products that heals and restores vitality comes first and only then no makeup-makeup essentials chart the list. Significant with fashion, beauty trends are definitely picking up minimalism with equal enthusiasm.
Laneige Water Sleeping Mask Value Set
SK-II Crystal Clear Skin Set
LANEIGE Holiday Sparkling BB Cushion
Cashmere Classic Brush and Eyeshadow Blending Set
SK-II Facial Treatment Clear Lotion
READ MORE ON THREAD >
2017 Quarter 03

Going towards that masculine suave, men are seen walking down the streets looking simple yet trendy from head-to-toe.
READ MORE ON THREAD >
2017 Quarter 02

This quarter, the men's fashion trend are hitting towards a more modern yet simple styles playing with back-to-basic looks with an edgy twist.
READ MORE ON THREAD >
2017 Quarter 01

Fashion
Simplicity is key. Even with men, fuss free comfortable clothing is a definite win. From wearing basics for a casual day to dressing it up for a formal date, the stylish outcomes are endless. Add a pair of dress shoes for that high key dandy or switch it up with Espadrilles for a laid back chill.
Short Sleeve T-Shirt
Basic Crew Neck Tee
Business & Dress Shoes
Basic Slim Fit Chinos Pants
Faux Embossed Leather Espadrilles
READ MORE ON THREAD >