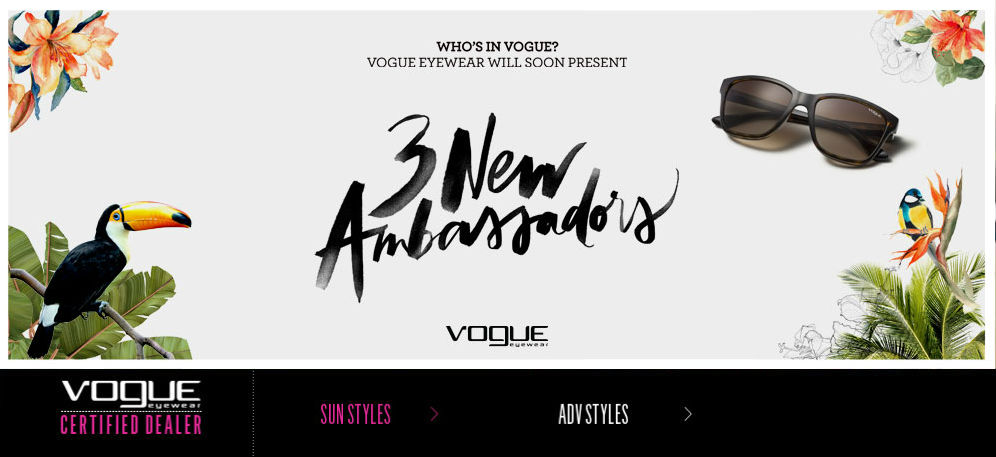 Click here to verify the authenticity
In Vogue Injected Sunglasses
RM510.00
Casual Chic Injected Sunglasses
RM620.00
In Vogue Acetate Sunglasses
RM650.00
Casual Chic Injected Sunglasses
RM510.00
Casual Chic Injected Sunglasses
RM510.00
In Vogue Metal Sunglasses
RM570.00
SHOP VOGUE SUN STYLE 2014 COLLECTION
The ladies who are looking forward for a trip to the beach or hanging out in the hot sunny day, the sun style sunglasses collection from Vogue will be the perfect choice. Sunglasses are important womens accessories to have especially in this country's hot blazing climate. Malaysia tropical weather will definitely make you want to cover those eyes with fancy eyewear piece. Vogue Malaysia offers a collection full of casual chic sunglasses style designs for women to choose based on their individual taste. The round unique frame with trendy patterns and lens are created for women to feel sassy and confident wearing all day long.
Women can spend their day out in the sunny beaches or walking around town with Vogue sunglasses style for a remarkable day. Choose the one which matches your face shape and flaunt it with the utmost level of confidence. The sun style collection from Vogue is created to make customers feel exclusive in the slightest way possible. Sun style Vogue eyewear Malaysia will definitely stun the ladies interest in wanting to purchase more than one into their fashion wardrobe. Match with anything you wear and feel empowered in every step you take. The simple yet trendy sunglasses style 2014 design is perfect for the ladies who prefer that modern chic look.
BUY VOGUE MALAYSIA BRANDED SUNGLASSES ONLINE
Protect your eyes while having fun wearing the stylish sunstyle Vogue sunglasses collection in anything you wear. Play that mysterious character and act like a celebrity walking out with the hope of not getting recognized. The tricks that sunglasses plays can definitely make you impress with the results. So wait no longer and start purchasing Vogue Malaysia casual sun style collection at ZALORA now! Choose the one which represents your character and wait for it to arrive within only a few days' time! Hurry up and enjoy shopping Vogue branded sunglasses at ZALORA today!