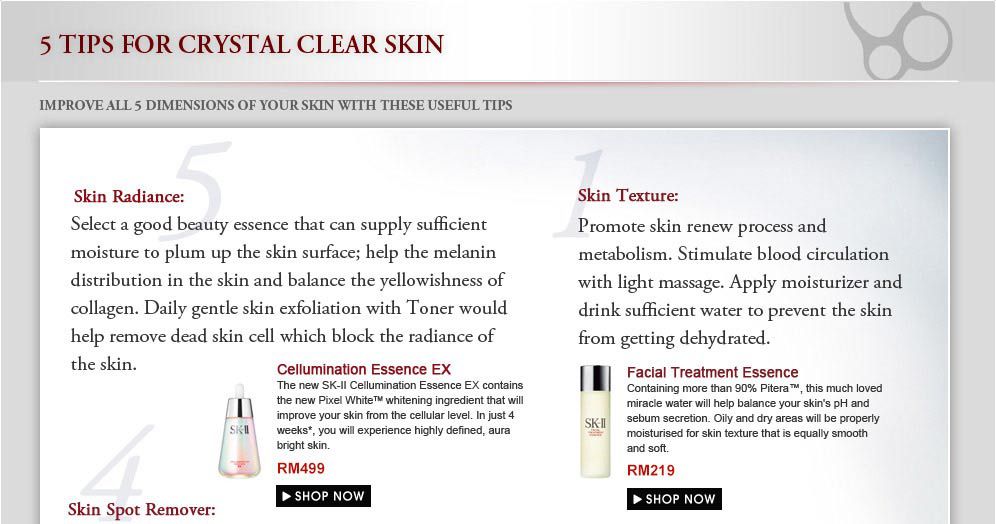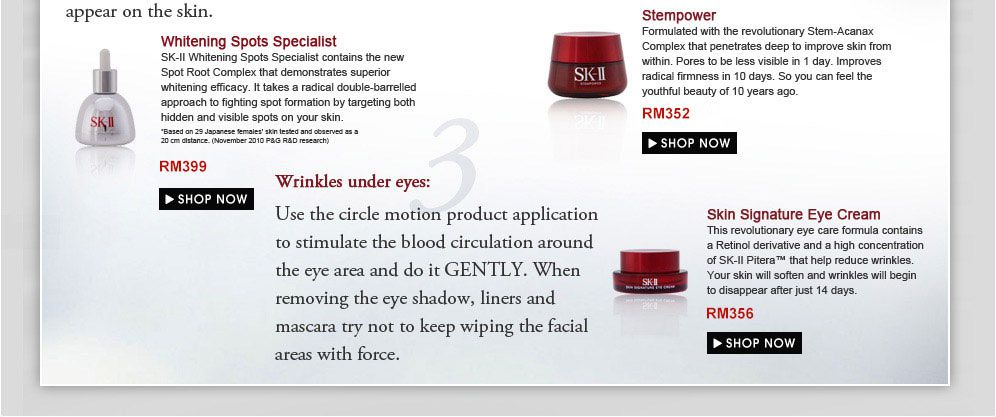 DISCOVER SK-II BEAUTY TIPS AT ZALORA
SK-II
is a popular Japanese skin care brand which uses the secret of Pitera in its products. The Pitera contains full with vitamins, amino acid, minerals and organic acids that work together for a radiant looking skin. SK-II Malaysia
beautiful skin tips
are contained in one bottle which could make your crystal clear skin dream a reality. SK-II skin care brand has a step to step guide of achieving younger looking skin more effectively. Women and men could both learn from the simple five face
beauty tips
provided by SK-II.
First and foremost, the best seller product which is the facial treatment essence is effective in renewing the texture of your skin and moistures it from being dehydrated. The facial treatment essence solution contains about 90 percent of Pitera and gives you a smooth soft skin after every application. Massage the solution in gently to stimulate blood circulation throughout the whole face. The next step in the
beauty tip
process is the application of SK-II Stempower cream to promote skin firmness and achieve less visible pores within a day. Apply the cream in an upward and outward direction to better enhance the firming of the skin. Eyes are also important to be aware of as wrinkles could form up easily without us noticing it until it's too late. SK-II has provided
beauty tips for eyes
with its skin signature eye cream product. Customers could apply it using circular motions around the eyes for the best effect.
GET BEAUTIFUL SKIN TIPS FROM SK-II ONLINE
Asian women tend to be exposed to sunlight which leads to damaged skin and appearance of spots. SK-II skin spot remover will swept your worries away as the product acts by fighting spot formation on your skin. Eat a balanced diet and never forget to apply sunscreen in order to avoid spots appearing on your skin. The final
beauty tips and tricks
is the secret of radiant skin with SK-II Cellumination Essence EX as the product provides sufficient moisturizer to make your skin more supple. Finish your
beauty tips for face
by toning it in order to remove dead skin cells which could ruin your skin long term. Customers should follow these
face beauty tips
religiously to get the perfect radiant and younger looking skin in just a few months.