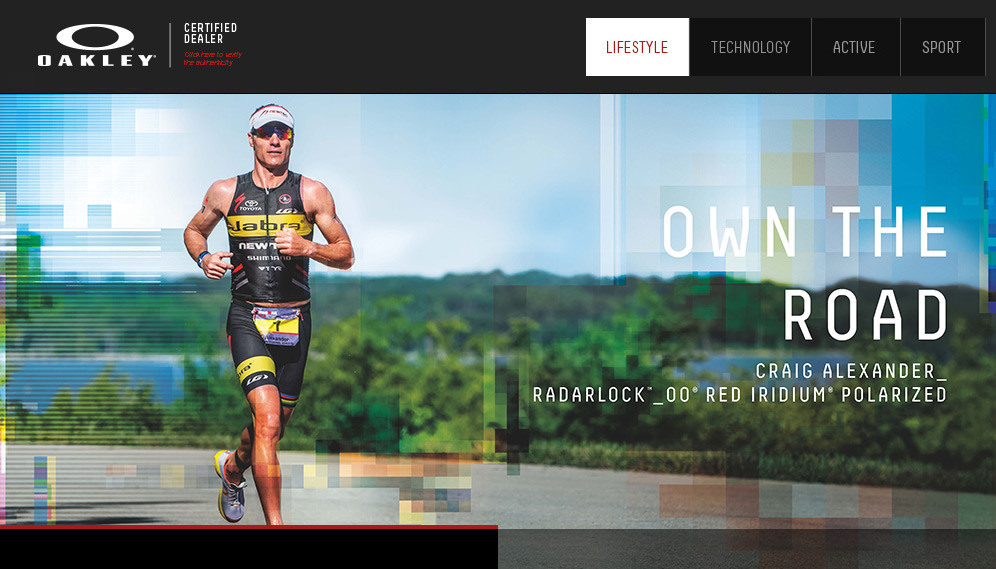 SHOP THE COLLECTION
Fives Squared Sunglasses
RM455.00
Holbrook Sunglasses
RM610.00
Twoface Sunglasses
RM710.00
Frogskins Sunglasses
RM505.00
Scuderia Ferrari Style
Switch Sunglasses
RM1065.00
Scuderia Ferrari Jupiter Carbon
Polarized Sunglasses
RM1925.00
Scuderia Ferrari
Twoface Sunglasses
RM1015.00
DISCOVER EDGY OAKLEY SUNGLASSES MALAYSIA
Founded by James Jannard in the year 1975, Oakley had become a well-known brand for fashion items such as sunglasses, shoes, optical frames and more. The Oakley Malaysia brand sunglasses collection is one of the top choices among consumers to add into their fashion wardrobe. Both men and women can experience the stylish Oakley sunglasses Malaysia and flaunt it fabulously around town. Sunglasses are an accessory for any individual to perk up their look without having to put much effort on. The brand definitely offers a wide selection for their customers to choose according to their own personal taste and fashion interest.
Designed with a distinct element of trendiness and chic, Oakley store Malaysia valuable customers can enjoy matching the sunglasses with almost anything they have on. Ladies can spruce up their look with patterned Oakley glasses Malaysia to cover their eyebags while men can wear it to add an extra edge to their outfit. Either way, individuals will definitely fall in love with the vast eyewear collection which not only looks exclusive but are made of high quality. Impress others with your remarkable touch of accessory and put some attitude into your overall appearance.
SHOP OAKLEY MALAYSIA ONLINE SUNGLASSES
Both men and women who prefer a more edgy touch in their look will love the unique shapes of Oakley sunglasses lens sizes which are sporty and funky. The Oakley Malaysia collection can boost up your image for an active lifestyle. Interested customers who are dying to get their hands on these funky sunglasses from Oakley brand can check out ZALORA for exclusive pieces online. Buy Oakley Malaysia online sunglass today and get the best deals possible! With only three days delivery, you can enjoy your new sunglasses by shopping for them online with us today! Hurry up and start purchasing these exclusive eyewear collections from Oakley online Malaysia.