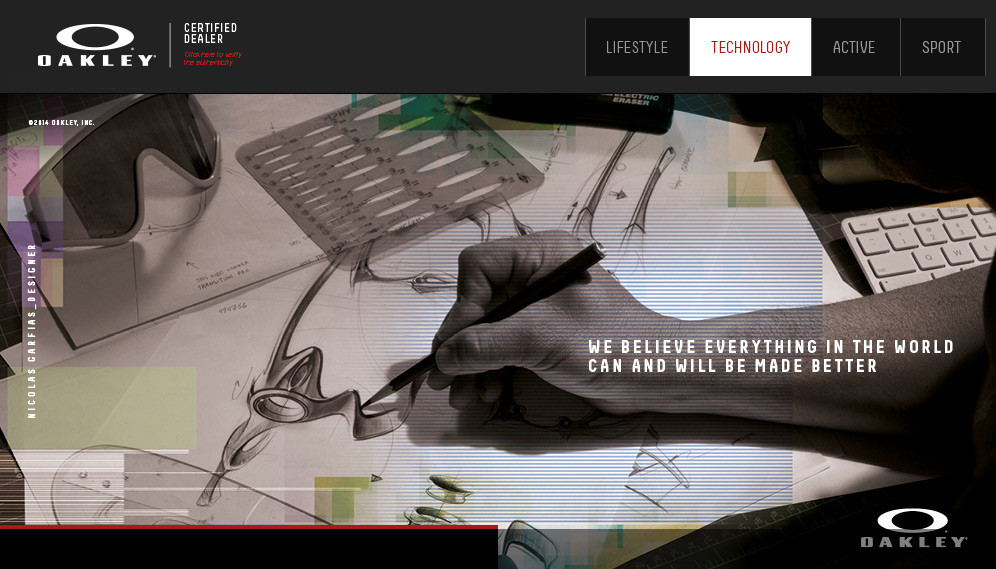 SHOP THE COLLECTION
Square Wire
Sunglasses
RM810.00
Square Wire Polarized
Sunglasses
RM1065.00
Whisker Sunglasses

RM735.00
Scuderia Ferrari Carbon
Blade Polarized Sunglasses
RM2280.00
Radarlock Edge
Sunglasses
RM1115.00
Half Jacket 2.0
Sunglasses
RM915.00
Quarter Jacket
Sunglasses
RM505.00
Flak Jacket
Sunglasses
RM710.00
DISCOVER OAKLEY TECHNOLOGY SUNGLASSES COLLECTION
Oakley is popular for its stunning collection of sunglasses for men and women. The Oakley brand is always coming up with new trendy designs of sunglasses for their customers to enjoy. One of the latest sunglasses collection produced by Oakley is the technology eyewear. Both men and women can feast their eyes on the edgy designs to suit their own personal taste. Customers who love accessorizing their outfit with fancy sunglasses will love the Oakley technology collection as the lenses are created with high safety and performance lenses. The Oakley lenses give customers a clear sharp view of their surroundings as well as magnify images.
Oakley high definition optics has successfully met the testing rules of American National Standard Institute which measures the performance of eyewear from all brands. Men and women can view clearly while driving on the road with confidence and walk in the shining hot Malaysia sun with no blurry images. Designed with the latest tech, Oakley polarised sunglasses is an accessory worthwhile for anyone to have in their belongings. With high polarized Oakley lens, you could lead your day feeling comfortable, protected and confident anywhere you go.
SHOP OAKLEY LENS TECHNOLOGY ONLINE
The fashionable individuals can experience style and safety combined in one piece of Oakley sunglass. Match the Oakley lens technology design sunglasses with a casual outfit or even a formal wear and look amazing all day. The Oakley combination of trendy touch and tech will be perfect for anyone to wear without ever looking out of style. Interested customers who cannot wait to get their hands on these trendy Oakley sunglasses can check out ZALORA Oakley polarised sunglasses online page. Browse through the Oakley online technology collection and select your favourite item today. Buy Oakley sunglasses online and start flaunting it in front of everyone around you. So wait no more and start online shopping for Malaysia Oakley sunglasses now!