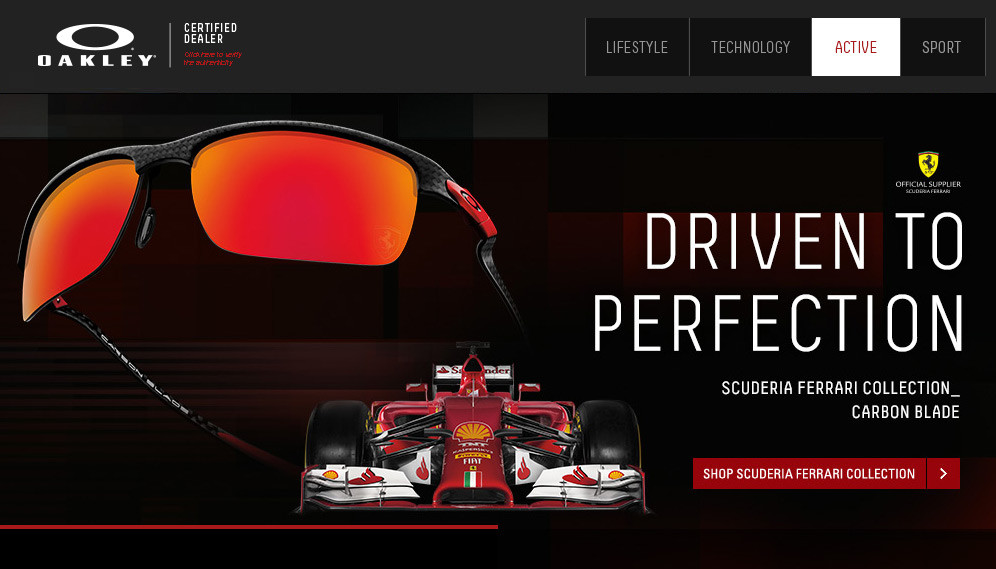 SHOP THE COLLECTION
Valve Sunglasses
RM760.00
Pit Bull Polarized
Sunglasses
RM660.00
Chainlink Sunglasses
RM760.00
Scuderia Ferrari TinCan
Polarized Sunglasses
RM1520.00
Pit Bull
Sunglasses
RM610.00
Chainlink Sunglasses
RM1015.00
Valve Sunglasses
RM760.00
DISCOVER OAKLEY ACTIVE SUNGLASSES AMAZING DESIGNS
Oakley Active sunglass collection was created to fulfill the individuals who are always on the go. Rushing and pacing through the fast everyday scene may be tiring but having the perfect accessories to show off your style is crucial. Men and women who are chasing time would absolutely fall in love with Oakley active sunglasses designs as it is perfect for them to match with anything they have. Besides that, Oakley active eyewear has a high blocking ability in its lenses for UVA, UVB and UVC rays from penetrating which can prevent your eyes from direct hit. Combined with a slight touch of sport and convention, Oakley active eyewear are perfect to adapt to wear to any settings.
With a reliable high quality product, customers will definitely feel worth every penny spent on the Oakley sunglasses. The Oakley outlet brand never fails to constantly provide their customers who are ambitious to experiment every style to suit their outfits with Oakley trendy sunglasses. Both men and women can select the pieces which catch their attention and show it off with the utmost level of confidence. Guaranteed with stylish sunglasses designs, efficient practical shape as well as effective ray blocking, Oakley sunglasses collection is perfect for anyone whether men or women.
SHOP SUNGLASSES AT OAKLEY ONLINE STORE
Made for those who can go beyond their comfort zone, Oakley sunglasses will definitely bring out your true personality with an extra factor. Individuals who are always confused to make a decision between form and function can no longer worry as Oakley offers both for their customers. The different variety of sunglasses styles from Oakley are what make it easier for customers to select according to their fashion interest with affordable Oakley sunglasses price. If you are wondering where to get these fantastic active inspired sunglasses, have a look at ZALORA wide selection of Oakley online store sunglasses. Hurry up and start shopping now!